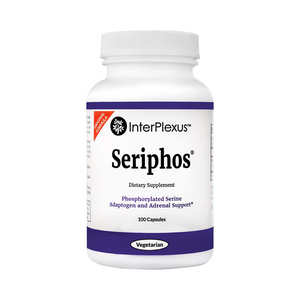 Amino Acid Therapy
Seriphos 100 Capsules
Regular price
$41.65
$0.00
Unit price
per
DATE (DATE OF MANUFACTURE) OF 09/2020 - THE PRODUCT IS BEST USED BY 09/2023

Stress is a common feature of everyday life that can raise cortisol levels and lead to significant health problems. Seriphos was developed to aid in lowering cortisol when cortisol levels are elevated due to acute and chronic stress.

PHOSPHOLIPIDS: Phosphorylated serine and ethanolamine phosphate serve as metabolic building blocks for phospholipids such as phosphatidylserine. Research shows that nutritional supplementation with phosphatidylserine supports healthy cortisol levels, improves adaptability to stress, enhances mood, calms anxiety, and supports cognitive function.

MAGNESIUM: Supplemental magnesium has been shown to lower cortisol and insulin levels while improving swimming and running times in competitive triathletes.

CALCIUM: Stress also may be worsened by depression and anxiety. Low calcium levels are associated with mood symptoms, including anxiety and depression. Researchers have hypothesized that premenstrual syndrome is a cyclic manifestation of low calcium levels. Supplemental calcium has been shown to alleviate PMS symptoms and may improve mood symptoms in individuals with marginal calcium status.
---